Allen Ginsberg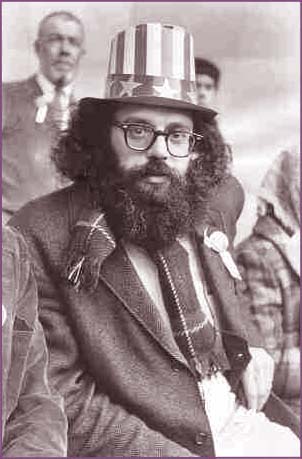 Allen Ginsberg was the poet laureate of the Beat Generation, his poems setting the wheels in motion for one of the most creative and influential literary movements in American history. He was a reserved, intelligent man who won the respect of his peers, his audience, and his critics alike.

Irwin Allen Ginsberg was born on June 3, 1926, to Louis and Naomi Ginsberg in Paterson, New Jersey. Allen was their second-born son, and from the beginning, Louis and Naomi planted the seeds for Allen's liberal philosophy. The attractive bohemian couple, who were unabashed leftists, hung around Greenwich Village poetry circles and raised their children with the attitude of poetic activists rather than steadfast parents. Part of the family's problems could be attributed to Naomi's schizophrenia, which first appeared in 1919. When Allen was three, Naomi checked into a sanitarium and thereafter rotated in and out of the Ginsberg home and various costly institutions and hospitals.

Meanwhile, the more delusional she became, the more adamant she was about Communism, taking Allen and his brother to Communist rallies. Naomi's paranoia caused her to inflate small family squabbles into grand ordeals, and although she attempted to free her mind of disease through various shock treatment therapies and medications, she only continued to deteriorate physically and mentally.

At a young age, Allen often felt as though his mother had abandoned him, but he would later become very sensitive and understanding to Naomi's plight and mental fragility, as well as to his father's emotional condition. By this time, Louis had grown tired of his wife, so Allen had become Naomi's caretaker, impartially listening to her paranoid fantasies and fears. Meanwhile, Louis taught English at Paterson Central High School, and often spending his nights writing simple rhymes and poems to maintain his own sanity.

Allen also began writing early on his life to escape his harsh reality. At the age of 11, he began to keep a journal of his thoughts on his favorite movies, dreams, fights with his brother, and his mother's sickness. Although he wrote mostly for his own enjoyment, Ginsberg was well aware of the power in his words. Three years later he declared in his journal that he would become some sort of genius, "probably in literature." His genius was indeed obvious in his studies. Ginsberg's vocabulary and writing ability far surpassed his peers.

Physically, Ginsberg was the smallest in his class and wore thick glasses and braces - the classic nerd. He was a natural student who truly enjoyed and excelled in his schooling. His dedication to academics would later gain him entrance into Columbia University.

Ginsberg was also obsessed with sex as a child. He became aware of his sexual feelings around the age of seven. Allen shared a bed with his brother, who often had to forcibly push him away, and was also prone to rubbing up against his father's leg from time to time. He developed many crushes on his boyhoodfriends. He was also an exhibitionist, exposing himself to passing traffic on his porch. As an adolescent, he constantly wondered whether or not he was a homosexual.

Ginsberg received a full merit-based scholarship from the Congress of Industrial Organizations to attend Columbia, where he found himself well ahead of his classmates. While he originally planned to become a labor lawyer, Ginsberg quickly dropped this aspiration and settled into his niche in the university's English Department. Professor Lionel Trilling became his mentor, encouraging Ginsberg to write poetry. Ginsberg inundated himself with schoolwork and studied constantly.

One random night, Ginsberg wandered around his dormitory and met Lucien Carr, another student of Trilling's. The two formed an immediate friendship, and Carr introduced Ginsberg to the world of alcohol. Ginsberg developed his first college crush, impressed by Carr's looks and intellect. The duo spent numerous nights discussing art and politics, drinking burgundy and fine liqueurs. On one of these nights, around Christmas of 1943, Carr took Allen to meet William Burroughs. Ginsberg was fascinated with Burroughs, whom he considered a sage, and a graceful man.

In the spring of that school year, Ginsberg also met Jack Kerouac through mutual friends. At first, Ginsberg was appalled by the brute intellectual, but eventually fell in love with Kerouac as well. A few months after their first meeting, Ginsberg revealed his love to Kerouac, who did not reciprocate such amorous feelings. Nonetheless, Kerouac did not reject Ginsberg all-out, and the two formed a lasting and understanding relationship. Altogether, Carr, Kerouac, and Ginsberg formulated an idea they termed the "New Vision," which promoted uncensored self-expression, the use of mind-expanding drugs, and world perfection through art.

In 1945, Kerouac, Ginsberg, and Burroughs moved into an apartment with a woman named Joan Vollmer, one of the few women in the world the three men would ever come to respect and admire. Ginsberg had been kicked out of Columbia after a dean found Kerouac in Ginsberg's room one early morning. The dean had made this unexpected visit in response to Ginsberg's tiff with his anti-Semitic cleaning lady. Although the dean had found the two in their underwear that morning, Ginsberg and Kerouac had actually remained chaste that night.

Nonetheless, Ginsberg was suspended from all university classes and activities for a year. At this point, he took on a mission of self-education, reading books Burroughs had recommended and altogether enjoying conversations he had with Burroughs much more than those he had with professors and other students in the classroom. For a year, the group of writers abused Benzedrine, searched their souls and lived out personal melodramas. Ginsberg became increasingly troubled by the world's anti-Semitism and began to feel unloved. He felt as though few could understand his sexuality. He held random jobs to get by, spending most of his time reading, writing, and attempting to meet people.

In the summer of 1948, Ginsberg sublet another apartment and isolated himself away from his friends. He worked two hours a day as a file clerk and wasted away the other hours of the day. Worried about his future, he became bitter and angry. Consequently, he buried himself into a world of books and masturbation. One day, after a hearty session of masturbation and the reading of William Blake's Ah Sunflower, Ginsberg claimed to see God. For a week, Ginsberg skirted between several flashes of euphoria and paranoia. He believed that he heard Blake's voice speaking to him, and when he shared these experiences with his friends, all doubted him. His father even thought he had inherited his mother's schizophrenia. All the while, Ginsberg returned to his studies and somehow maintained As in all of his classes. However, he became completely frustrated with his personal writing style, feeling his writings lacked a voice, but his head was swarming with ideas.

A year later, all his friends had run off to faraway places. Ginsberg remained stranded in New York City, lonely and working as an Associated Press copy boy. An old friend Herbert Huncke wandered onto Ginsberg's doorstep one afternoon in desperate need of help. Longing for company, Ginsberg allowed Huncke in, housed, fed, and cared for the man as Ginsberg kicked his Benzedrine addiction. Ginsberg took Huncke on as a sort of personal project and attempted to revive him. As Huncke became healthier, he began to take advantage of Ginsberg and almost completely moved into the apartment. Huncke's petty criminal friends infiltrated the apartment as well, filling up the place with stolen goods. Ginsberg began to get nervous and feared a police raid. One day, Ginsberg was involved in a car chase with one of Huncke's cronies. The chase ended in a car accident, but Ginsberg survived and somehow found enough money to buy a subway coin and to make a phone call home to Huncke to clean the house before the police arrived. However, when he finally arrived home, Ginsberg found Huncke in the middle of a mess of cigarette butts and opium pipes. To avoid arrest, Ginsberg pleaded insanity in the trial of the case. He was required to enter psychoanalytic therapy at Columbia Presbyterian Psychiatric Institute the day after his 23rd birthday.

Ginsberg entered the institution, believing that he brought this situation upon himself. He faced a premature midlife crisis, wondering whether or not he could be a poet and whether or not he was homosexual. Although his days were routine, Ginsberg was able to write some poems that would later be published in his works The Gates of Wrath and Empty Mirror. At the institution, Ginsberg met Carl Solomon, a fellow poet, and the two isolated themselves from the doctors and other patients to discuss literary matters.

On February 27, 1950, Ginsberg was discharged. His stay at the psychiatric institute had immediate effects upon his lifestyle. Although he had distanced himself from the caretakers at the institution, Ginsberg still left the place desiring a more balanced, productive, and sociable life, as the doctors had encouraged. For a short while, Ginsberg appeared to be another success story from Columbia Presbyterian. In any case, he held intentions to become a labor journalist and to have sexual relationships with women in order to find a life of normalcy.

Ginsberg returned to his father's home in Paterson and met Helen Parker, among other girls. For a few years, he was involved in only heterosexual relations. He attempted to find a job he could keep, but failed miserably. He returned to Greenwich Village, where the old crew reconvened at the hip San Remo bar. Ginsberg coined a word to describe the bar's existentialist, jazzy, drugged regulars - "subterraneans".

Allen attended a poetry reading by William Carlos Williams, who was also from Paterson, and left excited about poetry again. Two days later, he wrote Williams a letter with some of his personal poems. Williams enjoyed the letter and the poems, but saw little innovation in Ginsberg's work. He urged Ginsberg to write idiomatically, personally, and basically. Kerouac suggested to Ginsberg a similar technique of not forcing something too conventionally poetic in his poetry. Ginsberg became frustrated with his writing. He tried various writing styles, but nothing felt quite right to him. He then searched his journals for the most intense passages and rearranged these fragments into poems. In January 1952, feeling as though he had hit a roadblock in his career as a writer, Ginsberg sent some of his work to William Carlos Williams. Williams loved the poems, and Ginsberg continued to write.

In 1953, after a long trip to South America, William Burroughs arrived in New York again to work on his novel. Allen would return from work as a copy boy, and the two would edit Burroughs's manuscripts for hours on end. The two started a sexual relationship, even though Ginsberg felt little physical attraction to the older man. However, Burroughs's feelings only intensified and scared Ginsberg away. At the end of the year, Allen left for Mexico, breaking Burroughs's heart. In Mexico, Ginsberg hiked through the Yucatan and visited the Mayan ruins. He met a woman named Karena Shields and moved into her place. Here, he was cut off from any sort of contact with his friends from home, but they infiltrated his dreams.

In June 1954, Ginsberg headed north to San Jose to visit Neal Cassady and his wife Carolyn. Ginsberg was hoping to re-kindle a former romance with Neal. He succeeded, but the two were caught by Carolyn, who gave Ginsberg 20 dollars, drove him to Berkeley, and forbade him to ever see Neal again.

Ginsberg moved to San Francisco and attempted a life of normalcy one last time. He got a job with a market research firm, cleaned up his look, and moved into an elegant apartment with a woman named Sheila Williams. Ginsberg acted as her husband and a father to her child, but once she learned of his past with Cassady and Burroughs, she refused to sleep in the same bed. Ginsberg left her and his short-lived comfortable life.

Soon after leaving Sheila, Ginsberg met his partner for the next several decades, Peter Orlovsky. Orlovsky was young and an emotional wreck, but Ginsberg unfailingly put up with his mood swings. Around this time, however, he was feelng unfulfilled; experiencing tremendous difficulty with writer's block, and he considered going back to school. Rather, he sat down and began to write off the top of his head, with no constraints, finding inspiration from his friends' and his own adventures with hard drugs and small-time crime. He wrote about Herbert Huncke wandering through Times Square, about Neal Cassady stealing cars and smooth-talking women, and about William Burroughs withdrawing from heroin. The end product was his famous poem 'Howl'.

On October 13, 1955, Ginsberg read Howl at the cooperative Six Gallery, on Fillmore Street. About a hundred artists, poets, professors, and social leaders, including some of Ginsberg's closest friends, showed up for the event. Kerouac collected spare change for gallon jugs of burgundy, other poets read their work, and then at about 11 o'clock, Ginsberg stepped up on the stage. He was overtaken by the audience's enthusiasm, and the reading ended in tears and cheers. That night at the Six Gallery marked the beginning of what was to be later called the San Francisco Renaissance, as well as the beginning of Ginsberg's illustrious writing career. The Bay City poets were ecstatic and enthusiastic about their future.

Ginsberg was once again reunited with his friends and enjoying his international literary recognition and leadership role among the San Francisco poetry scene. He continued to write voraciously, becming very comfortable with his newfound automatic writing style. In the six months after the Howl reading, Ginsberg wrote several of his other well-known poems, including Footnote to Howl, America, Sunflower Sutra, and A Supermarket in California. City Lights published Howl and Other Poems in 1956, bringing notoriety to both the poet and the publisher.

On May 21, 1957, Captain William Hanrahan of the San Francisco Juvenile Bureau ordered the arrest of Lawrence Ferlinghetti, City Lights publisher, on obscenity charges for the publication of Ginsberg's work. This would become a common practice for the small publishing company, which faced several major lawsuits concerning the novels of various Beat writers. The trial, held in the summer of 1957, went to the courtroom of Judge Clayton W. Horn, a Sunday school Bible instructor. The American Civil Liberties Union provided Ferlinghetti with a good set of lawyers. Ginsberg vacationed in Europe during the trial, while several experts testified for the literary merit of Ginsberg's poems. Judge Horn declared Ferlinghetti not guilty.

Meanwhile, the San Francisco crew dispersed all across the world. In 1957, Ginsberg and Orlovsky went to Tangiers, where Ginsberg helped William Burroughs with the editing of Burroughs's famous novel Naked Lunch. The media began portraying the poets as rebellious and angry young men, and Ginsberg began to resent his fame. He also finally came to terms with the death of his mother, who had passed away in June of 1956. Ginsberg had sent his mother a copy of Howl, and the night before her death, she had written him a letter cautioning him not to take chances with his life. By the time Ginsberg got the letter, he received word from his brother about Naomi's small, miserable funeral. On November 13, 1957, Ginsberg started to write an eulogy for his mother. A few Benzedrine-driven marathon writing sessions later, Ginsberg completed the 58-page emotional text called Kaddish. A year and a half later, he gave the manuscript to Ferlinghetti. Ginsberg cut out five pages and determined the work ready for publication.

In July 1958, Ginsberg was ready to return to America. In addition, he was also ready to try new drugs in an attempt to recapture a state of altered consciousness. As part of an experiment at the Mental Research Institute in Palo Alto, Ginsberg tried and enjoyed LSD for the first time. In 1960, he traveled to Peru, climbed Machu Picchu and tried yage, which made him feel as though he were on the verge of either death or madness.

Later that year, he ate psilocybin mushrooms in conjunction with Harvard professor Timothy Leary's experiments. Together, the two determined that all world leaders should eat "shrooms" and began a sort of psychedelic revolution. He traveled to India and Japan, and upon returning from his travels, took an active role in political demonstrations against the Vietnam War, on behalf of gay rights, and for the legalization of marijuana. On June 14, 1966, Ginsberg testified before a special Senate subcommittee on his own drug experiences, which he believed allowed him access to a common sympathy with other human beings.

Ginsberg became immersed in Buddhist doctrines later in life. Along with his friends, Ginsberg would often turn to Buddhist writings for inspiration and comfort in the 1980s and 1990s. These friends would branch out across the nation, but their minds and souls remained connected by their constant search for peace within themselves and throughout the world. Allen Ginsberg died on April 5, 1997, of liver cancer. Fans of all ages mourned his death all over the world, reading and writing poems in his memory.


Excerpted from The Birth of the Beat Generation
Copyright 2002-2008 by Steven Watson/Waiting-forthe-Sun.net