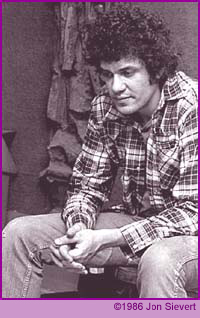 Michael Bloomfield
(1943 - 1981)


Michael Bernard Bloomfield was born July 28, 1943, in Chicago, Illinois. An indifferent student and self-described social outcast, Bloomfield immersed himself in the multi-cultural music world that existed in Chicago in the 1950s.

For many fans and critics alike, Mike Bloomfield was the finest white blues guitarist America has ever produced. He astonished those viewers who had watched many black blues guitarists spend a lifetime trying, and not always succeeding, to play with as much fluidity and feeling as Bloomfield had acquired at a tender age.

Bloomfield's guitar work as a session player caught the ear of legendary CBS producer and talent scout John Hammond, Sr., who flew to Chicago and immediately signed him to a recording contract. However CBS was unsure of exactly how to promote their new artist, declining to release any of the tracks recorded by Bloomfield's band, which included harp player Charlie Musselwhite.

With a contract but not much else, Bloomfield returned to playing clubs around Chicago until he was approached by Paul Rothchild, the producer of the Paul Butterfield Blues Band albums. Bloomfield was recruited to play slide guitar and piano on early recordings (later released as The Lost Elektra Sessions) which were rejected for not fully capturing the sound of the band. Although more competitors than friends ("I knew Paul [and I] was scared of him" remembered Mike), the addition of Bloomfield to the Butterfield Band provided Paul Butterfield with a musician of equal caliber - Paul and Michael inspired and challenged each other as they traded riffs and musical ideas, one establishing a pattern and the other following it, extending it, and handing it back.

The same year he joined Butterfield's band, he was also an important part of musical history, when folk purists accused Bob Dylan of committing artistic suicide at the Newport Folk Festival. Bloomfield was his lead electric guitarist at that event, and again on Dylan's 60s masterpiece Highway 61 Revisited.

On leaving Butterfield in 1967 he immediately formed the seminal Electric Flag, although he had left before the first album's release and their fast decline in popularity. His 1968 album Super Session, with Stephen Stills, and Al Kooper, became his biggest-selling record. It led to a short but financially lucrative career with Kooper. The track Stop on the album epitomized Bloomfield's style: clean, crisp, sparse and emotional. The long sustained notes were produced by bending the string with his fingers underneath the other strings so as not to affect the tuning. It was five years before his next satisfying work appeared, Triumvirate, with John Paul Hammond and Dr. John (Mac Rebennack).

Following this, Bloomfield became a virtual recluse. Subsequent albums were distributed on small labels and did not gain national distribution. Plagued with a long-standing drug habit, he occasionally supplemented his income by scoring music for pornographic movies. He also wrote three film music soundtracks, The Trip (1967), Medium Cool (1969) and Steelyard Blues (1973). Additionally, he taught music at Stanford University in Palo Alto CA, wrote advertising jingles and was an adviser to Guitar Player magazine. Bloomfield avoided the limelight, possibly because of his insomnia while touring, but mainly because of his perception of what he felt an audience wanted: "Playing in front of strangers leads to idolatry, and idolatry is dangerous because the audience has a pre-conception of you, even though you cannot get a conception of them".

In 1975 he was cajoled into forming the "supergroup" KGB with Ric Grech, Barry Goldberg, and Carmine Appice. The album was an unmitigated disaster and Bloomfield resorted to playing mostly acoustic music. He had an extraordinarily prolific year in 1977, when he released five albums, the most notable being the critically acclaimed If You Love These Blues, Play 'Em As You Please, released through Guitar Player magazine. On November 15, 1980, Bloomfield joined Bob Dylan on stage at the Warfield Theater in San Francisco and jammed on Like A Rolling Stone, the song they had recorded together 15 years earlier. A second burst of activity occurred shortly before his tragic death, when another three albums' worth of material was recorded. Bloomfield was found dead on February 15, 1981, in his car outside his San Francisco, California home, from a suspected accidental drug overdose, marking a sad end to this "star" who had constantly avoided stardom in order to maintain his own integrity.